Memorial Tribute to Jucontee 'Tom' Woewiyu, Sr.:A Friend and Brother
Sunrise: December 15, 1945
Sunset: April 12, 2020
By Elder Siahyonkron J. K. Nyanseor, Sr.
Jonesboro, Georgia
April 30, 2020
Tom was my friend and brother! No one knew him better than I, not even his wife or any of his children.The story of Jucontee Tom Woewiyu, Sr. aka Thomas J. Smith will not be complete without his upbringing in Dwen Town, Neekreen Township, Grand Bassa County, Liberia and the early days of the Liberian community in the United States, especially, 548 Hinsdale Street, Brooklyn, New York, the residence of Oldman Montgomery, our African American landlord.
Tom and I worked at the Liberian-Swedish American Mining Company (LAMCO) in Lower Buchanan, Grand Bassa County. Tom was Sergeant in the company's Plant Protection Force (PPF). After I graduated from LAMCO Vocational Training School (LVTS), Grassfield, Nimba County (1967), I worked in the company's Ore Handling Plant, Station 8 Control Room as Senior Control Room Technician/Operator, Lower Buchanan.
My first wife, Anita 'Tencent' Mae Doegbee was Tom's cousin; I was the one who sent him the Form I – 20 that brought Tom to the United States on February 2, 1969. In fact, it was through me he met and married his first wife, Virginia, the mother of his daughter Hawa Zoe Woewiyu Dahnsaw. In 1986, I succeeded Tom as President of the Union of Liberian Associations in the Americas (ULAA).
We were privileged to rent from the man we referred to as "Oldman Montgomery", a kindhearted African American, his wife and their daughter. At that time, black people were referred to as Negro or Colored. The house was located on the Eastside of Brooklyn. The address is: 548 Hinsdale Street, Brooklyn, NY 11207; "dubbed by Anthony Minikon Wesley as "Free Port of Entry" because it was the first place Liberians stranded at John F. Kennedy (JFK) airport got shelter. '548' became the second most popular gathering location of Liberians next to 150 East 94th Street, Brooklyn, NY – Joe Outland's Place.
Oldman Montgomery considered us his long lost relatives from Africa; and for some reasons, Tom became his favorite among us. Also, he got used to eating our
Liberian food so much that the ladies in the house would make sure when they cooked to dish out his portion. Thank God Moses Barrolle and Anthony Minikon Wesley are still around; they are familiar with most of what I've written here. May Oldman Montgomery's soul rest in perpetual peace!
For example, at one time or another the following persons resided at our 548 Hinsdale Street residence: this writer – Sam Anthony Roberts, III aka Siahyonkron J. K. Nyanseor, Thomas J. Smith aka Jucontee Thomas Woewiyu, Sr., Anita 'Tencent' Mae Doegbee, Martha Brewer, Nelson Dohama Williams, Moses Barrolle, Orlando J. Wisseh, Annie Tarr, Moses Jerald Karnga, Edwin Fahnbulleh, Robert Doe Johnson, Wesley Pennoh, Yvonne White, Prince Anderson, Thomson Johnson, Anthony Minikon Wesley, Henry Barchue, Joseph Kokro, Tucker Tarr, Isaac Harris, Josiah Davis, etc. In addition, there were others who visited frequently, they are: Sam Yan-Somah, J. Laveli Supuwood (Big-Guy), Alfred (The Hook) Harris, Ernest 'GI Boy' Jenkins, Matthew K. Woods, James Bondo, etc.
Born to Fight Injustice in Liberia
In 1963 at age 17 years and just in the 10th grade at Bassa High School, Lower Buchanan; to protect the people of Neekreen Clan, Tom pursued and obtained for his people a change of political status to Township in order to stop their forced conscription into the obnoxious potter labor system known as 'plotor'. That singular act of a sense of justice at such a tender age would define my friend's character throughout his lifetime.
The name JUCONTEE in the Bassa Language means "there is time for a child to be born."
Tom came to the United States on Sunday, February 2, 1969. Although he left high school in the 10th grade, upon arriving he sat for the GED certificate. He later enrolled into a BA program at Rutgers State University of New Jersey-Newark campus where he graduated from with honors (3.5 to 4.0 averages) specializing in Labor Studies. He would later use this knowledge to work and invest in business; one of which is the Gbezohn Enterprise, Inc., a Real Estate acquisition and management company.
Member of the Restless Generation
Tom belonged to the then restless generation of Dr. Togba Nah Tipoteh, Gabriel Baccus Matthews, Liberian students both at home and the Diaspora, the Liberian workers' Union, and the powerless majority who were against change through GRADUALISM. This is the generation that could no longer "Leave the people's thing alone." And as a result, they sought CHANGE "by any means necessary."
In the 1970s, this writer (Siahyonkron J. K. Nyanseor aka Sam Anthony Roberts, III) along with Tambakai A. Jangaba aka Tambakai A. Johnson, Gabriel Baccus Matthews, Jucontee Thomas Woewiyu aka Thomas J. Smith, Charles MacArthur Taylor, Tarty Teh, Philip N. Mukomana aka Nyudueh Morkonmana, Leslie Norman Abayomi Cole, Samuel Polypheus Jackson, James Laveli Supuwood, Miatta Fahnbulleh, etc. were part of this group of Liberian students in the United States that advocated changing the Liberian socio-political/economic system of 'monkey work baboon draws'. However, the greed and thirst for power by a few individuals thwarted the brilliance and nobility of those ideas.
Tom was a founding member of the Union of Liberian Associations in the Americas (ULAA), Inc., and its tenth president (1988-1990). In 1986, I succeeded Tom as President of ULAA. In addition, Tom served as Chairman (1988-1990) of the Board of Directors of ULAA and was a founding member of the ULAA Council of Eminent Persons (UCEP), Inc.; an organization that consists of past Presidents and Chairmen of the Board of Directors of ULAA, Inc. In 1972, Tom founded the Bassa Progressive League in Brooklyn, an advocacy organization for social, political and economic change in Liberia. The League's name was later changed to the United Bassa Organizations in the Americas (UNIBOA).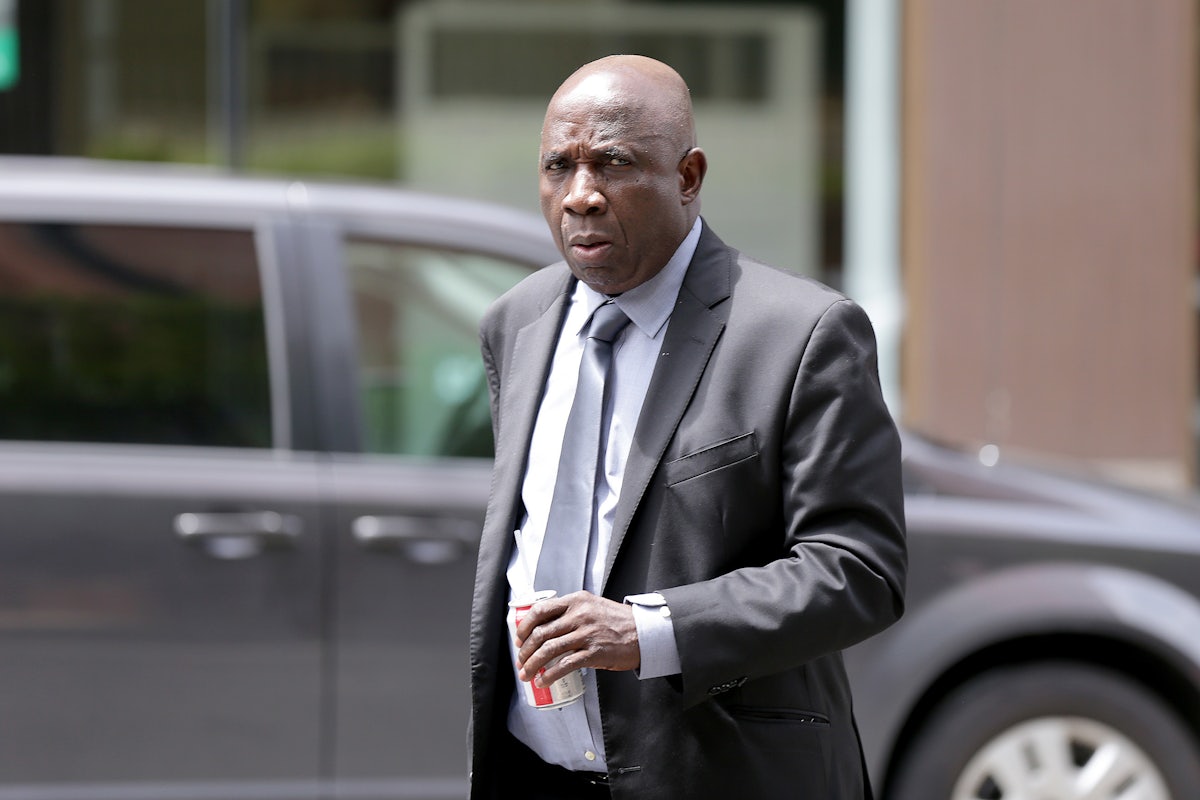 Later in life, Tom became a founding member of the exiled political opposition group called the Association for Constitutional Democracy in Liberia (ACDL). This organization lobbied the United States Congress to pressure the Samuel K. Doe Administration to stop its repressive policy and to allow freedom of speech, and freedom of press in Liberia.
Services Rendered to His People
Tom served as the first spokesperson and Defense Minister of the National Patriotic Front of Liberia (NPFL). Later on, he served from 1994 – 2000 as Labor Minister in the administration of President Charles G. Taylor. In 2000, he replaced Cllr. Charles Walker Brumskine in the Liberian Senate as Senior Senator from Grand Bassa County; then in 2003, he was elected President Pro-Tempore of the Senate, and January 2014, he was appointed by President Ellen Johnson Sirleaf to serve on the Board of the Forestry Development Authority (FDA).
Due to the role Tom played as spokesperson and defense minister of the NPFL, he cannot be exonerated from the horrible and senseless atrocities the NPFL committed against the Liberian people. But as mortal beings we cannot judge him. His Day of Judgment lies in the hands of the Almighty God who is in the position to forgive him or punish him for his sins. God knows why the United States government had to try and convict Tom on charges related to immigration, while Ellen, Johnson, Boley and others have served and still holding BIG positions in the present government of Liberia.
I am reminded of the axiom that says, "Good intention alone is not always good until it produces practical results" and I find it applicable in this case. No doubt, Tom contributed to some of the problems Liberia is facing today! Yet, it cannot be denied that his passionate advocacy contributed to the demise of the one-party state in Liberia ushering in democracy and the multiparty system Liberians enjoy today.
To adequately judge the late Tom would demand a clear and objective appreciation of Liberian history. Tom saw himself as an advocate for change among other Liberians whose intent and actions he could not control. Prior to April 12, 1980, he was also part of the movement that advocated against the old order, the elite True Whig Party (TWP) regime.
However, in the Liberian culture, it is much easier to judge, particularly when we are judging others. For example, some Liberians political writers and analysts would write and print a narrow picture of the April 12, 1980 People's Redemption Council (PRC) overthrow of the Grand Old True Whig Party government without looking at the entire and individualized context. Doing so prints a blurring picture as if Liberia was a paradise on earth before the coup led by Master Sergeant Samuel K. Doe.
In the 1980s, Tom was a real estate developer who was moved by the overwhelming and heart wrenching reports of Doe's tyranny. He joined in founding the ACDL as a conduit to make Doe change his bad governance or be removed from power. To accomplish that just cause, Tom left his kids, a loving, caring wife, and a thriving business to do battle with a brutal AFL. It was a sacrifice for the country he loved.
Tom understood and saw himself as a freedom fighter caught up in a space with dubious people whose intentions were different from his. Because of these reasons, he openly broke ranks with them at his own risk. He was also straightforward, as revealed by "An Open Letter to President Ellen Johnson Sirleaf," with whom he fundamentally disagreed on many issues including the way the NPFL was operating under Charles Taylor who Ellen supported to head the NPFL.
There might come a time that Liberian history will proclaim that perhaps, Mr. Jucontee Thomas Woewiyu was our own Brutus, a man whose motives were honorable in a political adventure gone wrong.
Reflecting on the life of Tom, it reminds me of the saying, "God doesn't always change our situation; he uses our situation to change us." In short, this is the life story of my beloved friend and brother – Big Guy, who spoke whatever was on his mind.
In conclusion, I can say Eminent Woewiyu left behind a beautiful family.  His lovely wife, Betty Karmoh Woewiyu, children; Boyd G. Woewiyu, Hawa Zoe Dahnsaw, Jucontee Thomas Woewiyu, Jr., Monconjay Thomas Woewiyu, Naanco Tomaudina Woewiyu, and Kayma Nuokay Woewiyu; he also leaves to mourn over eighteen grandchildren, nieces, nephews and a host of other relatives.
Eminent Woewiyu's sudden departure from this world has left a big vacuum and an irreparable damage to the hearts and souls of his family and friends. Words alone cannot describe how deeply the many lives he passionately touched will miss him.
I bid you farewell, my friend and brother; you fought a good fight in the midst of others with evil minds; therefore, death need not be proud, for there is nothing it could have done to STOP the course of our history you contributed immensely towards. May your travel be smooth and safe, and give my best regards to our brothers and sisters in the struggle who went ahead of you.
PEACE, until we meet again!
Gwe feh Kpeh!
Eminent Siahyonkron J. K. Nyanseor, Sr.
Your friend & brother

Photo: Tom seated & Siah speakingAbout The Author: Elder Siahyonkron Jglay Kpa-kay Nyanseor, Sr. is a life-long activist (*troublemaker) in researching the true history of Africa, the people of African origin in the Diaspora. He had dedicated his teaching of African culture; spent over 48 years advocating for human, civil and constitutional rights of all people, especially, the Liberian masses. He is a Griot, poet, journalist and an ordained Minister of the Gospel. He can be contacted at: [email protected].
Spread the loveBuhari' government through the ministry of finance took…