Hampton, Georgia
May 16, 2022
For over 45 years, I got reunited with a Patriot and Comrade of mine on the Saturday, May 15, 2022 at an event sponsored by the Friends of Gongloe, Georgia Chapter. The event was held at the VIP Event Hall located at: 884 Buford Drive, Lawrence, GA 30043. It was a fundraising, dinner and ball in honor of Cllr. Tiawan Saye Gongloe who is a candidate for President of the Republic Liberia in the presidential elections of 2023.
The occasion was a reunion of many of the attendees, including this writer. Cllr. Gongloe had a prepared speech; instead, he spoke extemporaneously from the heart. To me, it was a conversation between old friends; it started at entrance of the hall where the highly acclaimed and popularly watched talk show of Focus On Liberia (FOL) conducted interviews.
During the interview conducted by Ansony Seah, he asked me, "What makes Cllr. Gongloe's candidacy special and different from Progressives of the past who ran for President of Liberia and never got elected?" His question was followed up with – "The Progressives have been accused of not being able to unite to support one candidate; what do you have to say it?" To which I said, there are many factors involved which at this time I will not go into here; but let me answer your first question about "What makes Cllr. Gongloe's candidacy special and different from Progressives of the past?" My answer to his question is: of all the candidates in the presidential race in Liberia, Cllr. Gongloe is the most qualified for the following reasons: HONESTY, PROVEN LEADERSHIP, CREDIBLE CHARACTER, NOT CORRUPT, and REPRESENTING the UNDERPRIVILEGED in the LIBERIA. These are the qualities that set him apart from the candidates in the race.
Let me add, we have moved from the once popular slogan: "The Time of the People Has Come" to "The Time of the People Has Arrived". There is a great difference between COME and ARRIVED. According Merriam-Webster dictionary, "COME" is used for persons or things or ideals whereas "Arrived" is mostly used for persons only or something personified. The key here is: to conceive of or represent as having human qualities or power; incarnate a teacher who personifies patience and good character.
According to Ecclesiastes 3:1-1-8 (KJV):
1 To every thing there is a season, and a time to every purpose under the heaven:
2 A time to be born, and a time to die; a time to plant, and a time to pluck up that which is planted;
3 A time to kill, and a time to heal; a time to break down, and a time to build up;
4 A time to weep, and a time to laugh; a time to mourn, and a time to dance;
5 A time to cast away stones, and a time to gather stones together; a time to embrace, and a time to refrain from embracing;
6 A time to get, and a time to lose; a time to keep, and a time to cast away;
7 A time to rend, and a time to sew; a time to keep silence, and a time to speak;
8 A time to love, and a time to hate; a time of war, and a time of peace.
This cherished Bible passage is often quoted at funerals and memorial services; and tradition tells us that it was written by King Solomon (the Wiseman ever lived) toward the end of his reign. This verse speaks to readiness of Cllr. Tiawan Saye Gongloe to lead the Liberian people.
Past and Personal Memories
Let me say here that the occasion brought back memories of misspelling his first name Tiawan as Tiawon by us the Kwa speaking of our group in the organization, the Movement for Justice in Africa (MOJA). For example, in the Klao (Kru) Language we have names like Torborwon, Jugbehwon, Teahwon, etc. WON in the Klao Language means ANSWER or AGREE; so we unconsciously spelled Tiawan as Tiawon, no disrespect intended to our beloved and well respected comrade.
Brief Bio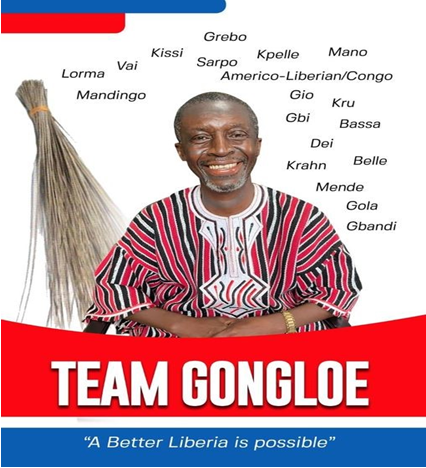 Counselor Tiawan Saye Gongloe is a Liberian. He was born onto the beautiful union of Teacher Wilfred Kehleboe Gongloe and Ma Elizabeth Menguah Gongloe on Monday, August 6, 1956 in Glehyee Zorpea, Yarwin Mehnsonnoh Statutory District, Nimba County, Republic of Liberia.
Cllr. Gongloe has always put Liberia first, irrespective of whatever challenges, life-threatening situations, or potential loss of opportunities. Certainly, Cllr. Gongloe is an agent of change who has been consistency about what he says and what he does. He has lived in Liberia for most of his life and knows Liberia and Liberians very well and more importantly, he is very about country's future as well as its socio-economic wellbeing. And as the result his dedicated legal services on behalf of his fellow compatriots over the years, his name as become a household name throughout Liberia.
For decades, Cllr. Gongloe has incrementally maintained an enviable and incontestable record of consistency in championing the fundamental rights of student activists, human rights advocates, journalist, media institutions, civil society leaders and political activists, among others. Even today, some of his former clients in his perennial human rights advocacy and legal services are working in the current government, in addition to numerous ordinary Liberians he has defended free of charge. Cllr. Gongloe's legal services to the poor have earned him the nickname, "poor man's lawyer".
Cllr. Gongloe ended his term as President of the Liberia National Bar Association (LNBA), the umbrella organization of all lawyers across the country. his incumbency as president of the Bar Association is credited for making the LNBA self-reliant and raising the profile of the Bar nationally and internationally, as evidenced by hosting of the Annual Convention of the African Bar Association in 2019, the first ever international conference hosted by the LNBA, since it was founded in 1907.
Cllr. Gongloe is a founding member of the Liberia People's Party (LPP), Member and former Chairman of the Movement for Justice in Africa, MOJA and former member and Chairman of the Young Christian Student (YCS), a consciousness movement that was started by the Catholic High Schools in Liberia.
Based on Cllr. Gongloe's 33 years of fearless legal practice, he has become one of primary conduits of public service, and in appreciation of his selfless service to Liberians from all stations of life, he has earned amiable traditional nicknames for his exemplary service to his fellow citizens. For example the great people of Maryland County called him "Waamu" (Bless Us/Blessing); while in Grand Gedeh County, he is affectionately known as "Poleeyon" (Savior/Liberator). As for the people of Bong County, he is simply referred to as their nephew.
Friends of Gongloe Global, Team of Gongloe, and Team Gongloe Global, strongly believe that our common patrimony, Liberia deserves a BETTER DIRECTION in national governance for a BETTER FUTURE; and in pursuit of our unshakable conviction, having meticulously followed and scrupulously monitored, assessed Cllr. Gongloe's exemplary public service over the years, we absolutely have no doubt that Counselor Tiawan Saye Gongloe has the requisite qualification, competence, orientation and CHARACTER to take Liberia out of the dungeon of endemic corruption, lack of respect for the rule of law and human rights, as well as pervasive bad governance that have hindered sustained economic growth and development in the country. Cllr. Has meritoriously earned our TRUST because he is a tried and tested public servant with a steely determination to put on the path of progress and development.
We are One People
On this night, I learned from Cllr. Gongloe's speech the unique culture reason why we are considered unique and peculiar people. According to him, UNITY in Liberia is possible because the commonality that exists amongst us. For example, the word keh means "but" in every Liberian language. We are one people that have torn apart by nearly two centuries of bad governance, motivated by greed, selfishness, dishonesty, and a total lack of love for our people and country.
Since the word keh, which we have in common is a CONJUCTION, i.e. BUT is a word used to connect clauses or sentences or to coordinate words in the same clause, e.g. – and, but and if are incomplete/conjunction. Here are few examples why the word keh is the problem of our disunity:"I love you keh (but)". "I want for us to work together keh if you will allow me to be the leader of our organization. It is this CONCTION that has played on our unique differences than what we have in common as a people. It got started far back when our ancestors welcomed our relatives from America; provided them land and they turned on them. This has led to a lack of trust in the government of Liberia and accentuated hopelessness that has led to most Liberians being angry with every government.
Conclusion
In short, let me close with words from the summary of Cllr. Tiawan Saye Gongloe's Agenda:
The current state of governance has placed upon us a sacred responsibility and reinforced our resolve to work towards the achievement of "A Better Liberia". Since the late 1970s, patriots like Cllr. Gongloe have suffered for putting Liberia first by speaking truth to power and providing legal services for the poor and persons perceived as enemies of the political establishment. As noble as those efforts were, it has not changed the state of governance in Liberia or improved the living conditions of most of the poor people. The poor continue to get poorer and even those who previously had getting poor. Now is the time to show that Liberia can be a better place for all Liberians without discrimination or preferential treatment. Now is the time to make every Liberian know that all Liberians have equal share in the "corporation", called Liberia. A Gongloe Administration can change the situation for A BETTER LIBERIA. This is not a speculation or an empty dream. Cllr. Gongloe's track record of honesty and dedication to the cause of A BETTER LIBERIA, even under risky situations, over the years, is well-known to all Liberians.
May we all be reconciled from the lessons, which the 2005 elections in Liberia taught us, and dream to sow harmony in place of discord, humility in place of haughtiness, good productive thinking and action in place of poor idle screaming!
Liberia cannot afford to continue in the wilderness of disgust. Why? Because:
The tragedy with Africa is that those with ideas are not in power, while those in power have no ideas. When the people have a chance, they still vote for those with no ideas.
A Better Liberia is Possible on the foundation of integrity and a strong commitment to the rule of law respect for human rights. These will be the guiding principles for strengthening our educational system, improving the state of security, protecting the environment, promoting gender equity, providing quality health services for all, making Liberia food self-sufficient, improving basic infrastructure (road, air and water-transport and housing, schools etc.), reducing raw material export and promoting value-addition to raw materials beginning with wood, and other natural resources.
"Our eyes are opened; the time of the people has arrived!" 
Gweh Feh Kpei! (The Struggle Continues)
About The Author: Elder Siahyonkron Jglay Kpa-kay Nyanseor, Sr. is a life-long activist (*troublemaker) in researching the true history of Africa, the people of African origin in the Diaspora. He had dedicated his teaching of African culture; spent over 48 years advocating for human, civil and constitutional rights of all people, especially, the Liberian masses. He is a Griot, poet, journalist and an ordained Minister of the Gospel. To keep TEH'S legacy and memory ALIVE, Elder Nyanseor joined other writers and became BLOJU TARTY TEH'S 2012 SCHOLAR. BLOJU TEH is the late Liberian Literary Genius, Writer, Storyteller, Human, Civil and Constitutional Rights Activist who hails from the village of Pallipo, River Gee County (1946-2012). You can read about Bloju Tarty Teh at http://blojlu.wordpress.com or contact Griot Elder Nyanseor at: [email protected] and [email protected]
Click  this link to read Other articles by His Eminence ,
Spread the love(Genesis 50:14 (NIV) …14 For God shall bring every…