My dear Asiwaju Tinubu,
Even if the whole country is cowed and mesmerised by you and applauds your callousness, vanity, evil, subterfuge, deceit, ruthlessness, obsessive ambitions, lack of fear of God and doubkespeak I FFK, the Voice of the Voiceless, the Servant of Truth, the Lover of God, the Beloved of the Lord, the Otunba of Jogaland, the Sadaukin Shinkafi, the Odum Agu and the Odugwu Eze will not.
Your spell cannot silence, bind or blind me like it has done to others. I see you for what you are and your vain and boastful words here have confirmed it. To think I once loved and admired you gives me sleepless nights and goose pimples. How could I have been so blind?
When Baba Fasoranti's daughter was murdered by Fulani herdsmen you made mockery of it, went to his house and asked "where are the cows?"
This was insensitive, callous and painful and all the more so because when the murderers of this much-loved and referred lady were eventually apprehended and arrested they were indeed Fulani herdsmen even though their cows were not arrested with them.
The latest episode in your catalogue of atrocities is that children that were protesting peacefully and asking for #EndSARS and an end to police brutality have been slaughtered at Lekki Toll Gate in Lagos under your watch as National Leader of the APC.
Sadly instead of exhibiting any remorse or displaying any regret for this abominable atrocity, with a sheepish smile and a sneering and jocular tone, you had the sheer nerve and effontry to say nothing other than that you are "still the Asiwaju of Lagos and the Jagaban?"
Yet what was even worse than this and what shocked and astounded all right-thinking people all the more was that you had the temerity to go on even further to say that the "casualties at the Lekki shooting have some questions to answer!"
You then asked,  "how are they there?", "how long were they there?" and "what kind of characters were they?"
How cruel can you be? Not a word of condolence or expression of commiseration to the families of the dead but instead you offered stupid questions and baseless accusations against their wards and children who were butchered in the most brutal circumstances and heartless manner.
You have no honor. You have no shame. You have no dignity. You have no self-respect. You have no decency. Children were murdered in our streets and this is all you have to say?
You are attempting to blame them for being shot to death and blown to pieces by a bunch of genocidal maniacs in uniform who subjected them to crimes against humanity, genocide and mass murder?
You seek to cover up these horrendous crimes and you are attempting to dishonor and denigrate the dead and desecrate and mock the great sacrifice  of these courageous  young martyrs for democracy who were murdered in cold blood on the front lines in the field of battle?
Let me tell you this: your dastardly strategy and evil diversionary plan will not work! This matter will not go away!
You will not brush it under the carpet, you will not play it down, you and your puppet Sanwoolu will not escape responsibility for failing to protect our people from the beastly savages that slaughtered them and God will punish you for your scurrilous attempt to muddy the waters, cover up the truth and pervert the course of justice.
.
The bitter truth is that you have no conscience and no compassion. You lack the milk of human kindness. You bear no love for humanity or for human beings and you place no value or reverence on human life.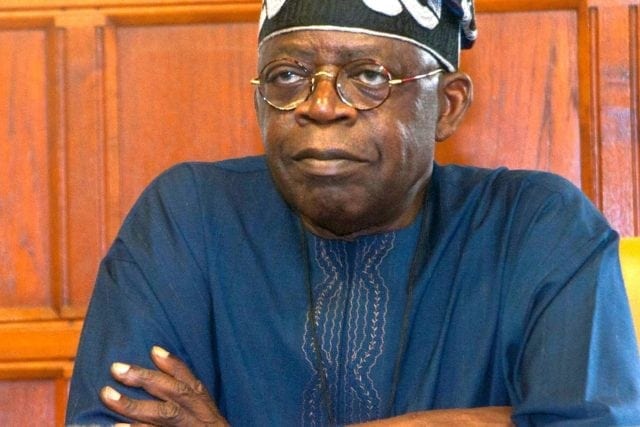 You only harbour love, which borders on obsession, for your vain and lofty ambition to rule Nigeria and trust me when I tell you that this will never happen.
You are heartless, you are cold-blooded, you are wicked, you lack empathy for the suffering and you are a sociopath. Your spell may work on others but it does not work on me.
I see you for what you are: pure evil. You are the darkness that seeks the darkness. The monster that betrayed his own people and put a tyrant and blood-sucking demon in power just to further his own fading ambition and feed his psychotic obsession for power.
Permit me to end with the following.
I urge you to find out what happened to a character called Icarus in Ancient Greek mythology when he flew too close to the sun because that is precisely what is going to happen to you.
As they say pride comes before a fall and hubris always leads to nemesis. Your hubris is here and your nemesis is coming.
To add to that the Holy Bible says "the Lord resists the proud and exalts the humble".
It also says "who art thou O man? Thou art as the flower that fadeth! Thou art as the grass that withers! A man that is born of woman, that is today and tomorrow is no more!"
I counsel and urge you to ponder and meditate deeply on these words. I advise you to humble yourself before God, get to know Him,  learn to fear Him and seek justice and truth before it is too late!
Remember that you will NOT be Asiwaju and Jagaban for ever and, like all mortals, one day you will answer the great call, go the way of all flesh, come face to face with your maker and account for your horrendous crimes against the Nigerian people!
#LekkiGenocide #EndSarsNow #EndBuhari #EndPoliceBrutalityinNigeraNOW #LagosMassacre #BuhariResignNow #BuhariMustGo #EndSARS
Spread the loveDIOCESE OF CAPE PALMAS P.O. Box 212, 6500…