In Oyo State, the progressives are scattered into two political parties, APC and Accord Party, making a mess of themselves as if we had not learned enough lesson from the Osun 2022 election.
During the APC Governorship Primary election, Chief Adebayo Adelabu contested, alongside others including Senator Teslim Folarin, Chief Akeem Agbaje, Mr. Akeem Alao, Chief Azeez Adeduntan and Adeniyi Akintola (SAN). Chief Adebayo Adelabu and other aspirants lost to Senator Teslim Folarin, in a manner, that any politician should  feel infuriated. However, instead of allowing peace and sanity to reign and demonstrating understanding and accepting defeat that if he, Chief Adelabu, had not mishandled the APC machinery, immediately after his loss in the 2019 General Election to Gov Seyi Makinde, then he might be singing a different songs of victory today. Surprisingly, Chief Adelabu jumped the APC ship and run to pick the Accord Party governorship ticket.
This is quite unfortunate and unprogressive for a progressive politician. I still believe that Chief
Adelabu  could be more relevant politically by staying in the APC. Afterall, Chief Tegbe did not abandon APC after the last minutes ticket-snatching which benefitted Chief Adelabu in the 2019 primaries. I am also speaking from similar experience. For example, I was one of the contestants for the House of Assembly position in Oyo State. Our primary election was not actually conducted as people were able to foil the "kangaroo election" purportedly organized by some APC stalwarts within our constituency. Was I embittered? You bet because I counted on my competence, qualification, and assurance that people would support my aspiration if I could vividly elucidate my vision for my community. Guess what? I had the full support of our people, and I was confident of victory if we were able to have a free and fair primary election. Unfortunately, the political leaders had to resolve to selection instead of an election because of the foiled malpractice. Thereafter, my supporters were embittered and incessantly insisted that I jump the APC ship to join the Accord party in order to pick the House of Assembly ticket. Candidly, I was deeply disappointed about the APC primary, but I refused this temptation to switch to the Accord party because I know that in politics, you are bound to win and lose elections. And, sometimes, election defeat might not mean a defeat at the ballot or in a free and fair contest. But it is pertinent for any politician to understand that one should not pull down the house because of an election defeat.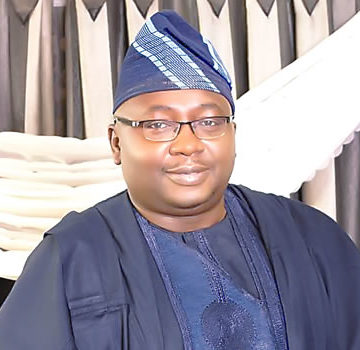 In his circumstance, Chief Adelabu now leads groups of the aggrieved progressives to the Accord Party. Chief Adelabu should not allow history to repeat itself because this history will not be kind to him if the progressives fail to win the Oyo State governorship election, come 2023. It is not too late for him to reconsider his stance as his insistence may only pave way for another four years of the PDP in the Agodi State House. We do not need anyone to remind us of the Awolowo versus Adelabu in the 1950s. We should be reminded and guided that the populace suffered from the fight of the titans, which set the Western Region behind significantly.
All forward-looking people of Oyo State should join hands with Senator Teslim Folarin to return Oyo State to the path of progress. Senator Teslim Folarin is a down-to-earth, intelligent, and brilliant politician. I met with him, and I could not expect more from an alumnus of University of Ibadan and Harvard University, USA. He has the blueprint to turn Oyo State into a major financial and economic hub in Africa. As such, industrialization, urbanization, social welfare, education, health, and technological development shall become the cardinals for economic growth and development. We need a transformative leader in the mold Asiwaju Bola Ahmed Tinubu in Oyo State. Senator Teslim Folarin will bring the pacesetter state to the lofty heights.
The Pacesetter State has suffered enough stagnation in the hands of the PDP. Since the inception of the PDP governance, Oyo State has witnessed enough socio-economic, infrastructural, and employment stagnation in all facets. Oyo State cannot afford another four years of unemployment, a deplorable economy including stagnant Gross Domestic Product, and mediocrity in handling security and public safety. Also, we cannot vote for an Accord Party, thinking that Chief Adelabu will just seamlessly transition to APC after victory, without subjecting the Pacesetter State to another post-election political crisis. This is the myopic thinking which cast the former APC Flag bearer out of the APC and into the wilderness when he could not secure the APC ticket, he once received on a platter of gold. I listened to the interview when he implies that he is the "blessed son" of Asiwaju Tinubu. I am assured that Asiwaju Tinubu will NOT jeopardize or cede APC's victory in Oyo State to the Accord Party. This is another shallow thinking you would not expect from a versatile, realistic, and sound-minded politician.
In conclusion, Chief Adelabu should be reminded that we are aware that he is clandestinely in accord with PDP through the accord party  in 2023 to secure  his place in  2027. Meanwhile, he should be cognizance of the latin phrase, nihil enim praestatur in vita, meaning nothing is guaranteed in life.
Dr. M.K.O Abimbola (Abogun) is a member of the All-Progressive Congress, APC, and a former aspirant for the Oyo State House of Assembly, Southwest Local Government, Constituency One.
Spread the loveOf all the updates that have been given…