It was reported that some leaders of the National Association of Nigerian Students (NANS) promised to pull 20 million votes for President Muhammadu Buhari at the February 2019 presidential elections. Not surprising that Nigerian bloggers literally chewed up the 'lazy' NANS leaderships on the internet. Some wondered what they were smoking,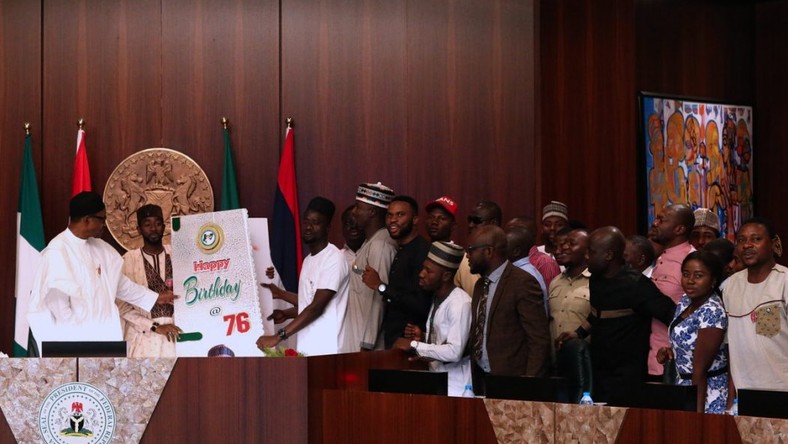 others were sure they must have been intimidated by being in the presence of Buhari and the enveloping opulence of the presidential palace. I just kept wondering whether the 20 million NANS votes would be in celebration of existing quality of education and/or extant prosperity of the Northeast NANS Chapter in the shadows of Boko Haram.
The weird pledge by the strange NANS crew got me thinking, so I checked and did some maths. The independent National Electoral Commission (INEC) confirmed that 84 million Nigerians have registered to vote in the 2019 elections. Using 30% of total population being in the 18-35 years age group implies that youth electorates are 35 million strong. Since 2003 when the voter turnout at elections under Babangida's shenanigan electoral processes peaked at 70%, voter turnouts at other elections have ranged between 57% (2007) and 39% (2015). Assuming 90% turnouts for voters between 18-35 years age group and 50% for voters above 35 years age group, voter population breakdown at next month elections comes to 32 million for the 18-35 voting group and 25 million for the 35 years and above voting group.
Indeed, in spite of his dud presidency, Buhari has assumed an avatar stature of sorts with some Nigerians! It is a bizarre thing. At 76 and in suboptimal heath, Nigerians hardly hear from him directly. They rarely see him live at times of national disasters. When he talks to them, at all, on sleepless national issues, he does so through rent political jobbers or outside the country, typically in jaw dropping comments. Still, Nigerians want him back anyway for four more years.
These Nigerians are so smitten by his legend that they even now believe Boko Haram cannot be defeated by anyone since Buhari is unable. So they ignore hunger, deaths and destructions in which they live and giddily point to the roads his government has constructed during the past four years as evidence of his good governance. You would think roads were never constructed by any governments before Buhari came along. I ask them anyway, how much useful will the roads be as infrastructures when Boko Haram ride into town?
Rewind back to March 2018 when Bill Gates chided the Nigerian leadership to invest in human capital (health, education and opportunities), warning: "People without roads, ports and factories can't flourish; and roads, ports and factories without skilled workers to build and manage them can't sustain an economy." He might as well be talking to a room full of turkeys for none of what he advised on is still evident on the government agenda four frigging years after winning the elections. Trillion Naira budgets year on year, all treacherously cannibalized or foolishly wasted in

Arrgh, the killings! The 2018 Global Terrorism Index (GTI) ranks Nigeria as the third most terrorized nation on earth coming after countries like Iraq and Afghanistan which are plagued by war. Sometimes, I wonder where Nigeria will be on the traumatized citizenry scale. The savagery of barbarous herdsmen and unremitting bloodshed of Boko Haram, the hundreds of thousands of forlorn Nigerians being banished to thousands of unsecure internally displaced persons (IDP) camps across the country.
Terrorist incidents In Nigeria?

Year

Number of
incidents

Deaths

Injuries

Remarks

2017

484

1,805

1,031

Fulani and Boko Haram

2016

531

2,164

1,155

Fulani and Boko Haram

2015

637

5,351

2,854

Fulani and Boko Haram

2014

713

7,773

2,283

Fulani and Boko Haram



I saw the photo news of downtrodden Nigerians recently fleeing Maiduguri with all their life belongings on their heads as they ran in fear from expected Boko Haram advance. The same Boko Haram that government insists had been degraded, but who have grown so confident they don't attack police stations or markets as prime targets anymore. Today, they bring the war to the military which they find as sitting ducks. They come in, sack military bases, cart away government stockpiles, mortars, grenades and pins and kidnap fresh batches of Nigerians on their way out. I don't know how our military end up in the underdog position of always giving "hot chase" of a degraded Boko Haram, after the fact. corruption, incompetence, or both. If Gates was not dismissed as a wailer or his speech a hate speech, Government might have prioritized its programs. Rather, N61.73 billion is still being allocated to Education out of a N8.612 trillion budget and Buhari's government casually limps on in the middle of negligent corruption, criminal impunity, wars and killings.
One of the concepts in self-government that appears to be beyond our capability in Nigeria is the importance of public institutions. In a recent report, at least, 50 Government Owned Enterprises (GOEs) are yet to remit about N2.78 trillion to the Federal Government as operating surpluses in compliance to the 2007 Fiscal Responsibility Act which mandates any government agency that generates revenue to remit 80 per cent of its operating surplus to the
Consolidated Revenue Fund (CRF) account. Some of the implicated GEOs and Agencies include the Central Bank of Nigeria (CBN) owing N801.18 billion; Petroleum Products Pricing Regulatory Agency (PPPRA), N1.34 trillion; Nigeria Communications Commission (NCC), N30.85 million; Nigeria Shippers Council (NSC), N11.99 billion, National Examination Council (NECO), N16.33 billion; Nigerian Maritime Administration and Safety Agency (NIMASA), N192.10 billion; Federal Airports Authority of Nigeria (FAAN), and the National Health Insurance Scheme (NHIS), among others. It is not only GOEs, even individuals and corporate entities withhold monies that are due to the Nigerian federation account.
Still, excluded from the GOEs deficits is the stamp duty revenue that Buhari administration instituted in 2016 for banks to collect on behalf of the Federal Government from every electronic transfer and deposit of N1,000 and above and which now has reportedly accrued to N20 trillion but has not been remitted by the banks to the federation account.
Meanwhile, in jeopardy are: about N40 trillion that Government invested in the GOEs which included a N2.8 trillion loan portfolio of banks from which Government often borrows at high interest rate of 18 percent to finance its obligations; implementation of the N9.1 trillion 2018 budget which has a N1.9 trillion fiscal deficit; and Nigeria's foreign debt portfolio of about $11 trillion in the last four years, bringing the total debt stock to $22 trillion today.
The least sector that should pose difficulty in collection of revenues to any government should be its own agencies. I mean, what really does it take to hold the Heads of GOEs accountable, fire the Oga at the top, invoke civil service disciplinary rules on the rank and file and force compliance to statutes? Not so easy in our Nigeria where everything is intentionally complicated.
The series of floundering governments that Nigeria has had since birth, especially after thorough bastardization by the military during their ignorant interregnum years, only know how to run the government as one-man shows. The Police Force jumps into action to catch a killer or kidnapper only after the president yells at it, Water Works never works, Electricity never stays, Petroleum Board never ceases to import refined petrol, etc, unless the president determines what government agency is concessioned, to whom, and which concessionee needs subsidy or bail out. Appointments of Heads of GOEs are based purely on political obligations without a care for job fit or job descriptions. So we end up with public institutions that function more as extensions of political parties. It is only in Africa that you will find governments being run like this.
As I was saying, a bloc with 32 million votes is one of the largest electorate groups anywhere in the world. That is an enormous balance of power in the hands of the much beleaguered, abused and mismanaged Nigerian youths! Even if the youths are inexperienced to run the country, they can at least put their votes where their interest is.
Nigeria continuously plays out its inability to overcome its problems on the open stage for all to see, every day. Anyone who desires and comes out to lead Nigeria should come in ready with full awareness of what ails us and what s/he can do to solve/contain our problems right from Day 1. No more learning on the job or lamenting through the first four years on how bad things are. We already knew the terrible state of our living conditions and thought you knew. You are not the leader we need if you come in to fight corruption only to turnaround and be whining that corruption is fighting you back. We are voting you in to come and help us stop the hunger, the killings, the impunity, the incompetence, the corruption and general national stupidity that have held us hostage in stone-age for 58 years.
We want a multi-commodity economy, quality education and technological evolution. We want jobs, security of lives and property, food security, and law and order. We want easier access to potable water, health care and housing. At this point in our flag independence, Nigeria needs a leader who can still do push-ups, who is a nationalist, progressive, intellectually sound, competent, brave, and who can establish and effectively run strong public institutions.
Nigerians, the coming February elections are not and should not be a contest perfunctorily between the same old feckless PDP and APC parties. These two parties are mirror images of each other. They are populated from the same gene pool of vacuous and greedy Nigerians who cross into each other's bear hugs simply for access to easy loots or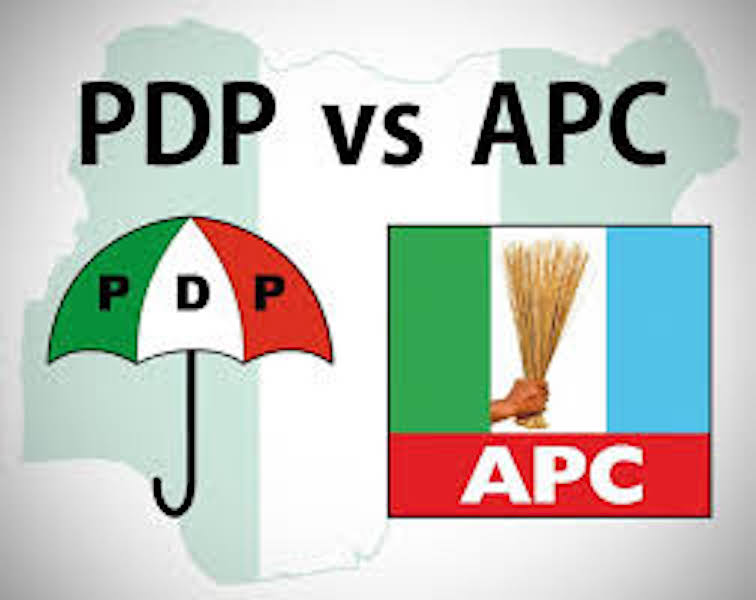 lootable positions. Nobody is putting a gun on your temples demanding that you must vote for APC or PDP. Such thinking is in your subconscious minds due to being subjugated in a prolonged state of impoverishment by the rapacious political class. Absolutely nothing says you must continue to keep memberships of these two parties afloat as hangmen/women over you with their votes.
The belief that Buhari is the only honest Nigerian out of 200 million is a delusion grandeur. It is not a pride for Nigeria, it is an indictment of us all. If you believe the hype that sai-Baba is the only one who can manage Nigeria at 76, then worry for the plight of Nigeria when Baba must leave the stage at 80. If you believe that Atiku can save Nigeria by selling it off and earn foreign exchange by trading in bitcoins, then worry for what scraps remain of Nigeria and are left over to your children after just four years at the helms.
There are 20 presidential candidates in this election. For sure, many of them are unfit and crooks. But if you examine carefully, you will find one or two that will make better alternatives to the PDP/APC old school. Nigerians, don't be satisfied with declarative statements as manifestoes. Ask serious questions of each candidate. What are your priority national issues that you wish to tackle for us when you become elected? How will you tackle them? Where will you get the funds you need to prosecute your programs, will you raise our deficit ceiling by borrowing more loans and mortgaging our future to China or IMF? Give us the figures. How will you create real jobs? What are your target timelines for getting results? Specify what results you aim to achieve on each selected problem. Then vote for the one you like his/her answers the most.
Listen to me, Nigerian youths. Come out en mass and vote intelligently in February. You of all voting blocs should aim at 100% turnout. It's not that you have better things to do, you have no jobs anyway. Come fricking out and vote in your new Nigeria. It's your one bloody chance in four years.
Even if all intelligent voting could do is break up the voting blocs between our two predatory parties away from 55%/45% into say 22%/15%/32%/31%, then Nigerians would have taken a giant step toward retrieving Nigeria from the edge because irresponsible politicians would have to form political alliances with responsible and progressive politicians.
Use your PVC wisely and make 2019 a good milestone in the history of Nigeria.
We can change the status quo in Nigeria this year.
The Brits left a long time ago.
Dr. Salako writes from Boston, MA. USA. He is a frontline social critic and commentator on Nigeria. He may be reached by email at [email protected]
Spread the love Dear Madam Ellen Johnson-Sirleaf:  The Rest of…