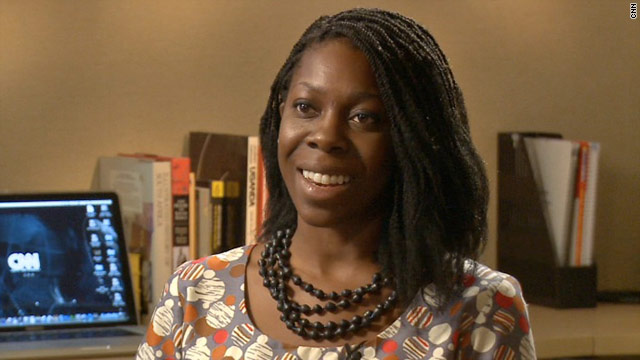 DAYO OLOPADE
One of the saddest stories of this year has been the death of Salome Karwah, a Liberian health worker who was featured on the cover of Time magazine as a fighter in the 2014 Ebola epidemic.
She lost most of her family to the disease. She was also infected, but she recovered to return to the clinical front lines to care for hundreds of other patients. Earlier this year in Monrovia, the capital of Liberia, she died from complications of childbirth.
Her death draws new attention to the governing structure in Liberia. The scope of the dysfunction that Ebola revealed is beyond what can be chalked up simply to being a weak state in West Africa. In 2014, Nigeria logged about 18,500 face-to-face visits to stop its few Ebola cases cold. Neighboring Sierra Leone, which had a higher number of initial infections than Liberia, ultimately experienced fewer Ebola deaths.
But Liberian health systems under Ellen Johnson Sirleaf, the first woman to be elected president of an African nation, were overwhelmed by the outbreak. Just 50 doctors at that time served Liberia's 4.3 million people. Sluggish education and quarantine efforts failed because of widespread mistrust of the government, and particularly Ms. Johnson Sirleaf.
Elected president in 2005, Ms. Johnson Sirleaf has become a sainted figure in development circles: pioneering politician, canny economic strategist, rightful recipient of a Nobel Peace Prize. Her story is often yoked to that of Liberia's "market women" and other female civil society leaders in Liberia like Mary Broh, Grace Kpaan and Leymah Gbowee, who rose to influence with less fanfare. Female political participation proved vital to Ms. Johnson Sirleaf's victorious coalition in 2005.
In retrospect, tethering Ms. Johnson Sirleaf's story to feminist energy feels superficial. What use is women's empowerment when neglected health systems can so easily snuff out women's lives?
Ms. Karwah died 11 years after Ms. Johnson Sirleaf vowed to make reducing Liberia's high maternal mortality rate one of her top priorities. Her death resulted in part from continued ignorance about and stigmatization of Ebola survivors, despite Ms. Johnson Sirleaf's loud proclamations of a renaissance in health care preparedness. Her passing speaks to the execution gap that has defined Ms. Johnson Sirleaf's tenure in office, and the complicity of international elites in ignoring it.
The Ebola crisis is often presented as an epilogue to a broadly successful and inspiring feminist political career. However, Ms. Johnson Sirleaf's early history as a crusader for reform has been tarnished by a decade of rule in which her judgment and integrity have been repeatedly called into question. Official corruption continues to be a constant source of local headlines and outrage. It doesn't help that her stepson runs the Liberian National Security Agency, another son is chairman of the Central Bank and yet a third ran the national oil corporation.
According to the nonprofit group Global Witness, which works for stricter money-laundering rules, one son, along with the chairman of Ms. Johnson Sirleaf's Unity Party, are on a long list of Liberian officials linked to a bribery scandal run on behalf of a British mining company. While laws exist to fight corruption in Liberia, enforcement in fact is so irregular as to be seen as political. Ms. Gbowee, the Liberian activist who shared the Nobel with Ms. Johnson Sirleaf, resigned from a government post to protest what she saw as the president's tolerance for self-dealing and graft.
Progress in a post-conflict state may be graded on a curve. But the West's adulation of Ms. Johnson Sirleaf seems to persist without any consideration as to whether she upholds liberal democratic values. Likewise, the gap between Liberians' perception of Ms. Johnson Sirleaf and her international reputation is rarely given a fair hearing.
Indeed, Ms. Johnson Sirleaf's global stature has risen based not on credibility with her people but on endorsements from international institutions like Harvard, Citibank and the World Bank and figures like George Soros, Bono and Warren Buffett. Which is why, in 2014, as Ebola deaths began to accumulate, Ms. Johnson Sirleaf's initial focus was on ensuring the epidemic not be described as a humanitarian crisis so as not to spook foreign investors.
At the same time, jaded Liberians ignored Ms. Johnson Sirleaf's calls to action, seeing them as an opportunistic way to get money from international donors. As aid groups like Doctors Without Borders coordinated the local and global responses, Ms. Johnson Sirleaf made a belated plea to President Barack Obama for the American military intervention that helped bring the Liberian epidemic to heel.
Few African leaders have a Rolodex like Ms. Johnson Sirleaf's. But her reliance on foreign support and tolerance for corruption has stunted local capacity and jeopardized health outcomes in Liberia. Today, it's estimated that more than 50 percent of Liberian health services are provided by nongovernmental organizations rather than by the Ministry of Health and Social Welfare. Despite millions of dollars in annual donor budget support, up to 35 percent of health care is financed out of pocket from Liberia's population.
In the year before the Ebola crisis, more than 20,000 government health care workers went on strike, saying they had gone unpaid for months at a time, and the strikes have recurred regularly since then. More recently, several workers at John F. Kennedy Medical Center, the largest referral hospital in Liberia, were indicted on a charge of stealing more than $100,000 allocated for hospital services. And although the country has made progress since its civil war, Liberia still lags the world in keeping women like Ms. Karwah alive in childbirth.
Still, last September, the Johns Hopkins Bloomberg School of Public Health honored Ms. Johnson Sirleaf, alongside Bono, as a public health "visionary."
For citizens from France to South Korea to the United States stunned by ethical and functional lapses in their political establishment, one instinct is to take to the streets to pressure those in power. Another is to wait for an election and vote for new leadership, which Liberians will have the chance to do in October.
The real antidote, however, may be to call out the elites, domestic and international, who lower the bar for leadership out of politeness, expedience or indifference.
Spread the loveBy now, most people have read the story…