At least 150 people were killed in separate weekend attacks in northwest and northeast regions of Nigeria, Africa's most populous country, officials and witnesses said here on Monday.
In the northwestern state of Zamfara, the death toll of an attack in a remote village has hit 105 as of Monday, increasing from the official 30 figure reported earlier by the state police authority.
Husseini Adamu, traditional ruler in charge of the affected village, who confirmed the figure, told reporters at the emirate council that it also registered persons displaced by the attack. According to him, unknown gunmen stormed a security meeting of vigilante members in Unguwar Galadima village of Maru local government area of the state.
The gunmen arrived at the village in more than 100 motorcycles and operated for over three hours, the traditional ruler recounted in his account of the incident. Witnesses said about 40 of the victims were buried on Sunday.
Governor Abdulaziz Yari of the northwestern state wept uncontrollably at the mass burial of victims, including women and children, whose corpses littered various parts of the community. At least 79 people were buried in the presence of the governor who attended the funeral with deputy governor Ibrahim Wakkala.
Herdsmen, who have recently become a security threat in the northern part of Nigeria, were suspected to be perpetrators of the attack, according to residents. Zamfara State is one of the states seeing a high number of attacks, with women and children being the most affected.
In a separate incident, at least 25 people, mainly politicians, were killed in an attack at Gwoza local government area of northeast Borno State on Saturday. Witnesses said the politicians, whose political group was not disclosed, were shot dead along Maiduguri-Biu road, en route Maiduguri for a political event.
Residents of the community alleged that the attack was perpetrated by Boko Haram, the ruthless sect which has proved to be a major security threat in Nigeria since 2009. Security operatives have kept mum on the incident for undisclosed reasons.
Maiduguri, capital of Borno State, is the headquarters of Boko Haram, a sect which seeks to enshrine the Islamic Sharia law into the Constitution of Nigeria, a secular nation.
In the neighboring northeastern state of Yobe, where scores of college students were slain less than two months ago, another attack hit a mosque at Buni-Gari, about 60 km south of Damaturu, the state capital, on Saturday.
According to eyewitnesses, 20 people were killed when gunmen, also suspected to be Boko Haram members, stormed the community in 13 utility vehicles and motorbikes, spraying bullets and throwing hand-made and petrol bombs in the area.
Deputy Governor of the state Abubakar Ali described the attack as "callous" when he visited survivors on Sunday. "This is an unfortunate and merciless attack meted on innocent citizens without any sense of reasoning," said Ali, who further expressed sadness that the northern state had lost so many lives and properties to insurgency.
He promised that the government would set up a committee to resettle the villagers and assess the level of damage so as to know the level of assistance required by the victims. He said many survivors had fled the village and taken refuge in Damaturu and its environs.
No group has claimed responsibility for the attack, but Yobe, one of three northeast states under emergency rule, is a stronghold of Boko Haram.
Nigeria, which has a population of approximately 170 million, is facing major security challenges which are crippling economic activities in some states. The northern part of the country is plagued by violence, including attacks by the Boko Haram sect. The southern part is said to be a hub of criminal activities which include oil theft or bunkering, kidnap and armed robbery attacks.
Communal clashes often paralyze commercial activities in the central state of Plateau, which shares borders with many northern states, whereas pockets of violence in the north central state of Benue are mostly attributed to herdsmen.
Nigerian authorities offered a reward of about $310,000 Wednesday for information leading to the rescue of 276 schoolgirls abducted last month by the terror group Boko Haram.
The reward offer came the same day reports emerged of a Boko Haram attack Monday in the town of Gamboru Ngala, near the border with Cameroon. At least 150 people died, according to a Nigerian Senator and several eyewitnesses.
It also comes as U.S. officials are preparing to send law enforcement and military assistance to help find the girls, who were abducted on April 14.
"While calling on the general public to be part of the solution to the present security challenge, the Police High Command also reassures all citizens that any information given would be treated anonymously and with utmost confidentiality," the Nigeria Police Force said in a statement.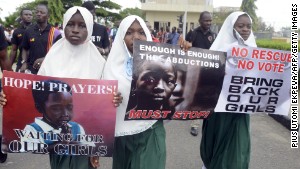 Anger grows over 200 missing girls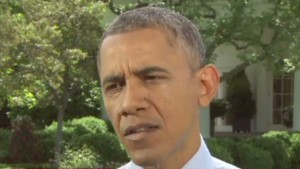 Obama: 'This is a terrible situation'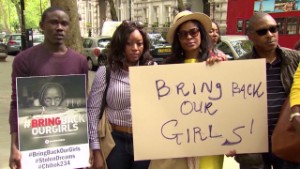 London joins campaign for kidnapped girls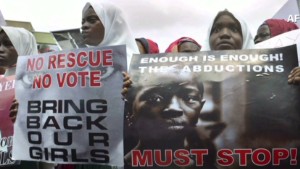 Kidnapper: I will sell them in the market
President Goodluck Jonathan has come under fire after waiting three weeks to publicly acknowledge the kidnappings in northern Nigeria, where Boko Haram is rampant.
His administration, however, is defending its response — even as details emerged Tuesday about a second mass kidnapping.
"The President and the government (are) not taking this as easy as people all over the world think," said presidential spokesman Doyin Okupe.
"We've done a lot, but we are not talking about it. We're not Americans. We're not showing people, you know, but it does not mean that we are not doing something," Okupe siad.
The presidential spokesman said helicopters and planes have searched for the girls in 250 locations. More troops, he said, are on the way.
U.S. aid accepted
Nigeria's President also accepted an offer of U.S. military support in the search for the girls.
"So what we've done is we have offered — and it's been accepted — help from our military and our law enforcement officials," U.S. President Barack Obama told NBC News on Tuesday. "We're going to do everything we can to provide assistance to them."
That help includes the creation of a "coordination cell" to provide intelligence, investigations and hostage negotiation expertise, U.S. State Department spokeswoman Jen Psaki said. The cell will include U.S. military personnel, she said.
The joint coordination cell will be established at the U.S. Embassy in the capital of Abuja, and U.S. Secretary of State John Kerry said the work is expected to begin immediately.
The Pentagon has started planning for how it can help Nigeria, a senior U.S. military official told CNN. U.S. military assistance will likely be limited to intelligence, mission planning and hostage negotiations, several officials told CNN. It's unlikely at this point that U.S. troops would be involved in operations, the officials said.
Despite the flurry of activity, the father of two of the schoolgirls taken by Boko Haram scoffed at the Nigerian government's response.
"We have never seen any military man there," said the father, who is not being identified for fear of reprisals by the government or Boko Haram.
"Had it been military men who went into the bush to rescue our daughters, we would have seen them."
Another mass abduction
But even as the help was offered to Jonathan, new details were emerging about the abduction of at least eight girls between the ages of 12 and 15, who were snatched Sunday night from the village of Warabe.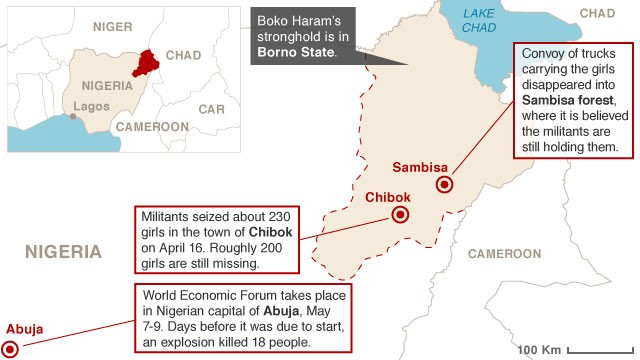 Map: Where the girls were kidnapped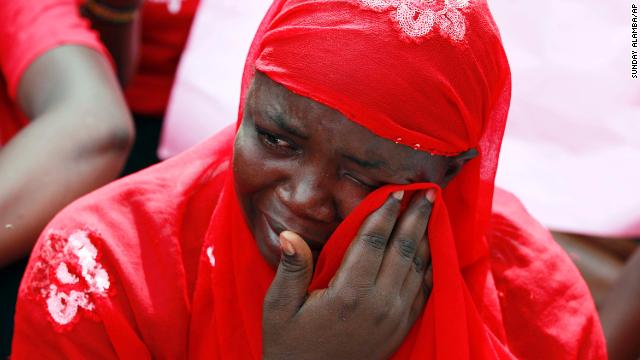 Nigerians protest over kidnapped schoolgirls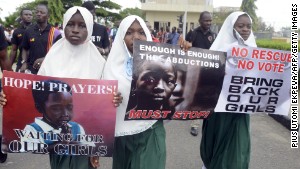 Anger grows over 200 missing girls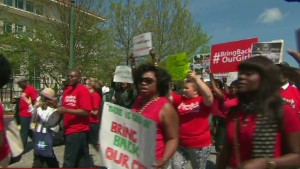 US offering help for kidnapped girls
The village is in the rural northeast, near the border with Cameroon, an area considered a stronghold for Boko Haram, a group that U.S. officials say has received training from al Qaeda affiliates.
Villagers in Warabe told CNN that gunmen moved from door to door late Sunday, snatching the girls and beating anybody who tried to stop them.
The latest abductions come amid international outcry over the April 14 kidnapping of more than 200 girls. According to accounts, armed members of Boko Haram overpowered security guards at an all-girls school in Chibok, yanked the girls out of bed and forced them into trucks. The convoy of trucks then disappeared into the dense forest bordering Cameroon.
Boko Haram: A bloody insurgency, a growing challenge
'Western education is sin'
Boko Haram translates to "Western education is sin" in the local Hausa language, and the group has said its aim is to impose a stricter enforcement of Sharia law across Africa's most populous nation, which is split between a majority Muslim north and a mostly Christian south.
The United States has branded Boko Haram a terror organization and has put a $7 million bounty on the group's elusive leader, Abubakar Shekau.
In recent years, the group has stepped up its attacks, bombing schools, churches and mosques.
But it is the abductions of girls that have spawned the biggest outrage, with a #BringBackOurGirls campaign that initially began on Twitter and then quickly spread with demonstrators taking to the streets over the weekend in major cities around the world to demand action.
A man claiming to be Shekau appeared in a video announcing he would sell his victims. The video was first obtained Monday by Agence-France Presse.
"I abducted your girls. I will sell them in the market, by Allah," he said. "There is a market for selling humans. Allah says I should sell. He commands me to sell. I will sell women. I sell women."
In the United States, all 20 women serving in the Senate signed a bipartisan letter calling on Obama to take action.
"More can be done by this administration. I would like to see special forces deployed to help rescue these young girls. Some of these girls are as young as 9 years old," Republican Sen. Susan Collins of Maine told CNN. "…They're being sold into slavery, forced into marriages, required to convert. This is just horrible."
More than 400,000 people, including celebrities and lawmakers, to date have signed a change.org petition that calls upon the world to act to save the girls.
The petition calls on Jonathan and the government "to ensure all schools are safe places to learn, protected from attack."
'You can never rule out surprise'
Nigerian Minister of Information Labaran Maku told CNN that despite international reaction and media reports, there have been some successes in combating Boko Haram.
But when asked about bombings in Abuja, which came the same day as the mass abduction of schoolgirls, he said: "In the case of insurgency and guerrilla warfare, you can never rule out surprise here and there."
He also declined to agree that misinformation released by the military after the April kidnapping added to the growing outrage.
First, the military said all the girls had been released or rescued. But after the girls' families began asking where their daughters were, the military retracted the statement.
"When they made that statement, it was based on a report they received," the minister said.
Spread the love(Genesis 50:14 (NIV) …14 For God shall bring every…