Since April 25, 2017, millions of Nigerians, international security and diplomatic monitors of Nigeria have been witnessing two contrasting images of the country of an estimated 170 million people. One image is that of President Muhammadu Buhari. The other is the controversial profile of Nnamdi Kanu, leader of the IPOB (Indigenous People of Biafra) movement. Ironically, Buhari's government detention and refusal to respect lawful orders of the courts for almost two years regarding the release or granting of bail to him, escalated Kanu's profile, globally. It sharpened the contrast with implications.
First, it sent a historic reminder to all students of history and power that demands for equity/fairness in Nigeria's geo-politics and nationalities question cannot be swept aside as the high-noon rantings of a few, misguided chaps possessed and jaundiced by youthful impetuosity! Such snotty, condescending nonsense and arrogance have combined to show the evident limitations of some of Nigeria's leaders at the state and federal levels.
Second, since January 19, 2017, when Nigeria's President Buhari began his "medical vacation" to London, we've all seen the images of a very ill and absent commander-in-chief; plus increasing talk about the likelihood of his quitting due to his complicated, frail health. Essentially, those images fit the current shape of the country's weakening political economy. Like my made-in-Aba suits and trousers, they fit perfectly.
Third, the dominant message seems to me to be the escalating demands against Nigeria's 1914 colonial borders as imposed and implemented under The Amalgamation of the Northern and Southern regions by the British soldier of raw materials and minerals named Lord Lugard. I hear the familiar demands approximating the historical agreement at Aburi in Ghana, as reflected in the official minutes, dated January 4-5, 1967. I hear the cries of some young men and young women whose siblings and parents were murdered in the routine killing and genocidal slaughter of the Igbo and the ethnic groups/communities that constituted Biafra. I hear a demand on all those who profit from the militarised impositions of a perpetual, non-negotiable "national unity" since 1960s to date, circa 2017. It seems to me a demand against domestic agents and foreign corporations whose actions have turned the once evergreen Niger Delta into a decimated, polluted environmental nightmare. I hear a demand for economic security and against 10 years of unemployment after graduation. I hear, loud and clear, a stand against discrimination in admissions and employment. I hear…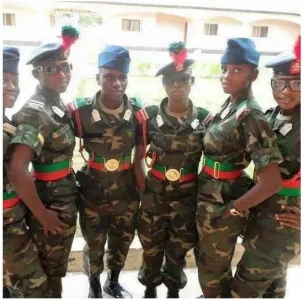 Fourth, many of the older generation Igbo who fought in and for Biafra caution the youth against pushing for another Biafra, even with the peaceful agitation. For all that it is worth, we note that Nnamdi Kanu was born after that war. It is the dominant demographics and a benchmark to appreciate/understand/critique the younger generation's interpretation of Biafra and trans-continental agitation for Biafra.
Fifth, Kanu-led IPOB and its affiliates distribute information and mobilise across more cities in the world than any other Nigerian or African organisation. USAfrica news index January 2014 to April 2017 also show that the Pope Francis, Israel's Prime Minister Benjamin 'Bibi' Netanyahu, U.S President Donald Trump know of the Biafra struggle of IPOB; the British Prime Minister Theresa May, and many world leaders are, at least, aware of their activism and agenda.
Sixth, without doubt, there are aspects of the new Biafra movement which reflect a certain level of operational and tactical recklessness. On the other hand, the non-dramatic fluency with which they sorted and settled – within 30 hours – the harsh reality of the mountain high jump, stringent and extremely difficult to meet conditions ordered on April 25, 2017 as required bail terms for the temporary release of the leader of the IPOB, by the Federal High Court Justice Binta Nyako, a wife of a former top military officer and governor, showed the credibility and clout of IPOB. She required Kanu to provide three sureties; one of whom must be a serving senator in Nigeria, a Jewish religious leader and highly respected person, who owns land anywhere in Abuja, Nigeria's capital. The bail bond was set at N100 million, for each surety. Kanu was also ordered not to grant any interviews to the media/press, pending the outcome of his trial and should not be seen in a meeting/gathering of more than 10 persons.
Finally, what would Ojukwu (the Head of State of Biafra) have said about these events? I interviewed him three times; one at his house in Lagos and twice in the U.S. One thing is certain: the ideological children and grandchildren of Odumegwu Ojukwu, of Chinua Achebe, of Gen. Effiong, of Christopher Okigbo, of Wole Soyinka, have kept a message of national identity, unapologetic zeal and unbowed resilience regarding the 1967-1970 war. Especially, those who swear "citizenship" under the golden yellow colours of the Land of the Rising Sun! Biafra.
Spread the love(Genesis 50:14 (NIV) …14 For God shall bring every…